In our obedience classes, owners are taught the steps to train their dog themselves with the benefit of a private instructor who focuses solely on their specific handling techniques and their dog's learning style.
In group or private classes, each week a new exercise is taught and the previous weeks are reviewed. To achieve optimum results, owners and their dogs are expected to complete all homework assigned by the instructor. We offer wonderful programs for people who have the time and inclination to work with their dogs.
At the completion of each course, each dog receives a personalized Diploma. We never deviate from the idea that training is done best when you are consistent and you put a lot of time and effort into it.
Please note: Current vaccines are required.
We offer: Private Lessons, Group Lessons, Board and Train, and Training Day Camps.
Fill out our Training Questionnaire.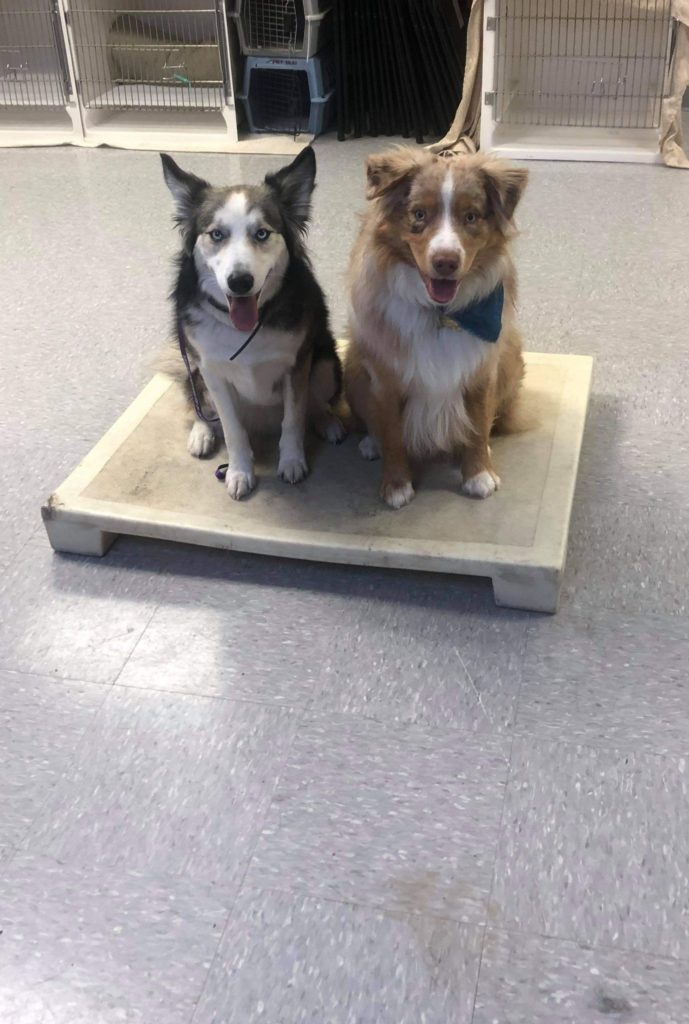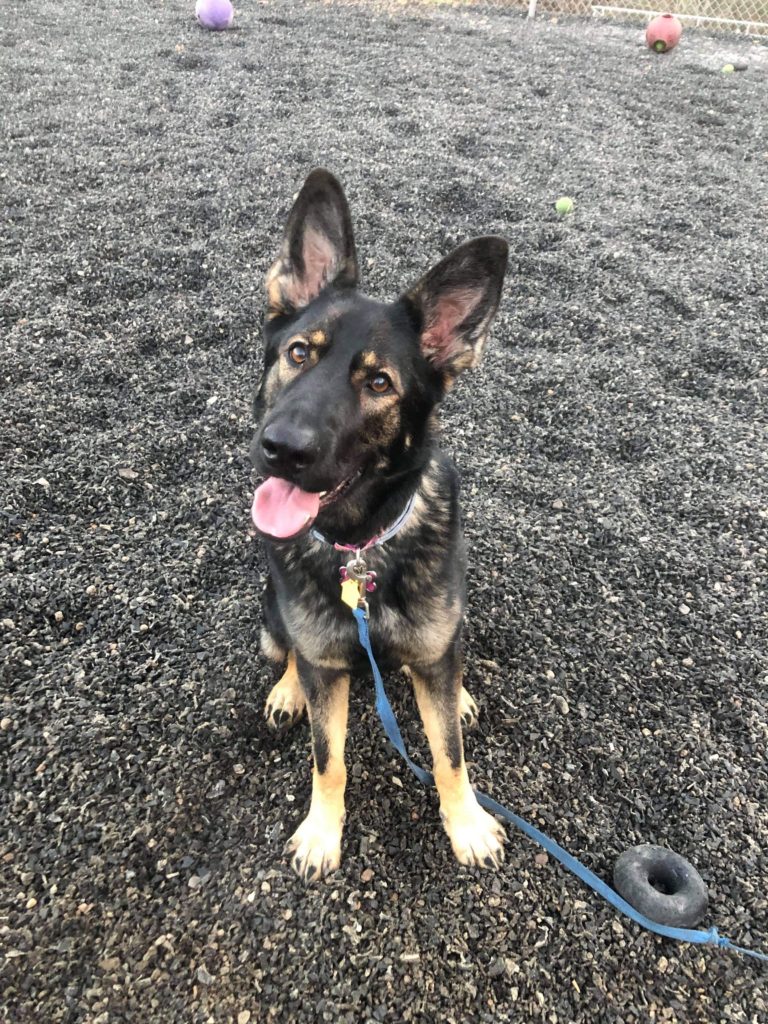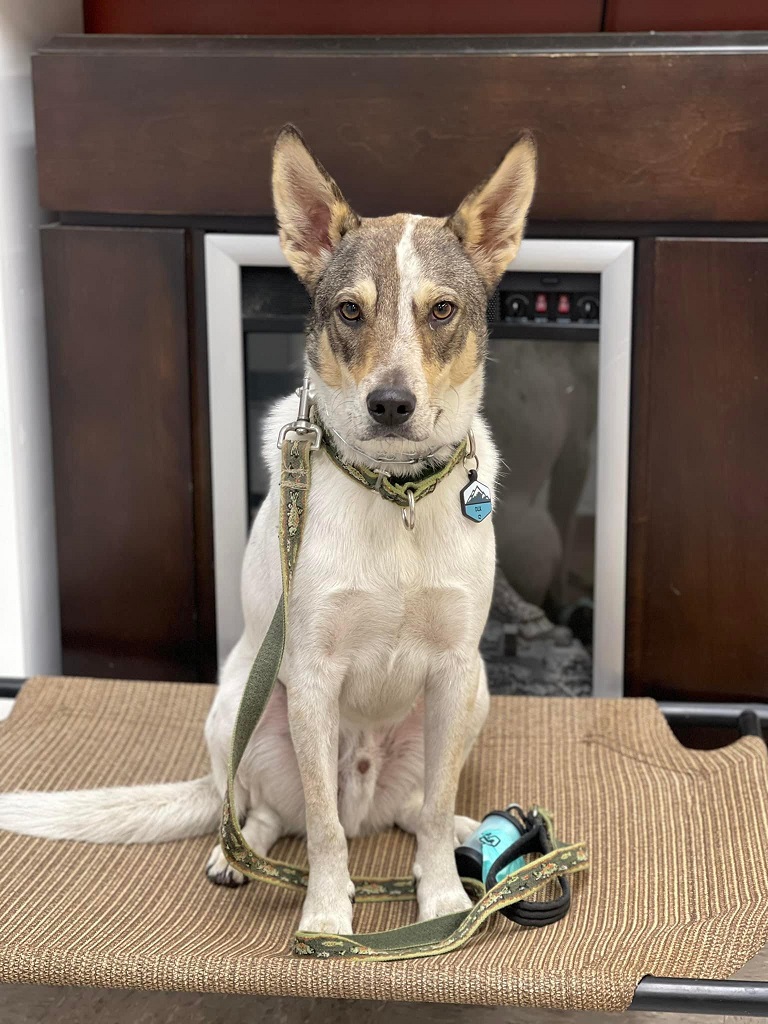 Not sure where to start? Emilie can help figure out what your dog needs! Consults can take place at Pet Rendezvous, in a public setting, or in a client home. Emilie can take your dog into a pack setting to figure out what behaviors may need some work, and will discuss issues with clients in-depth so she can figure out what package will work best for you and your dog!
Rates
We provide 1/2-1 hour long private dog training lessons with you and your dog. Our lessons are taught on our premises and will address any current issue you are having with your dog.
Private lesson with client & dog
Private lession WITHOUT client
6 session pack with client
Behavior Modification is a more intense training process used to refine problem behaviors that have become ingrained in a dog. These issues include: reactivity, extreme fear, aggression (towards humans or dogs) and any other behavior that would require a more consistent training schedule and help from an experienced trainer.
Emilie will work on general obedience skills, self-soothing, proper use of correctional tools (e-collar, prong collar, muzzle training), and help teach your dog coping skills to move through life in a better mindset.
A consultation will help our trainer understand the extent of your dog's issues, and will help determine the amount of time needed to adjust the behavior. Behavior modification is set at an hourly rate, and is with owners so that they can learn the skills necessary to handle their dog in any situation.
Behavior modification with client
This is an intensive behavior modification program tailored to individual dogs needs and the owner's training goals. Designed for dogs with behavior issues including reactivity, fear/insecurity, aggression (including dogs with a bite history), and other extreme behaviors that need extra time and support to accomplish training goals.
Sometimes this approach works better, as owners can be a source of reactivity for some dogs. Emilie can condition strong obedience and help dogs work through these issues and then transfer those handling skills to owners.
Emilie will do an hour long follow-up with owners, as well as text updates throughout the boarding.
E-collar Training
E-collars allow owners to have contact with their dog from far away. We use Dogtra e-collars, which can be bought at our facility. E-collars are great for owners looking to advance their dog's training to the next step, and can help with reactivity, anxiety, recall, and much more. Emilie will introduce the collar to your dog at a low stim level, with vibrate as a correction. She will help owners learn how to properly use the e-collar to help guide dogs through life and introduce more freedom to their lives.
Sometimes this approach works better, as owners can be a source of reactivity for some dogs. Emilie can condition strong obedience and help dogs work through these issues and then transfer those handling skills to owners.
Emilie will do an hour long follow-up with owners, as well as text updates throughout the boarding.
Structured Daycare Introduction & Assisted Daycare
Some dogs struggle to get into our busy packs, and we understand that and want to help them through it. These options allow a single handler to be hands-on with your dog and only your dog to ensure they get the very best out of their day with us, as our pack leaders are busy managing a group of 30+ dogs and can't always give a single dog all the attention they may need.
For dogs that need a "tune up" when they arrive for daycare, we offer a structured intro, where Emilie will work with the dog on their basic commands to get them into a calmer and more prepared mindset before they enter the pack.
Add these to your daycare day for $12 each, or $100 for 10 intros.
Assisted Daycare
If your dog is receiving frequent breaks during their day of daycare, struggling to understand other dog's communications, or having a hard time settling in to the pack, reactive, or only capable of managing themselves in a smaller pack setting, we offer assisted daycare. Emilie will be the only one handling your dog. Assisted daycare may include long line work, e-collar work, or whatever our trainer thinks will best benefit your dog. She will work with your dog in a smaller, slower, steady pack, adding dogs one by one while working on your dog's general obedience in a pack setting.
Assisted daycare is $50/hr.
All group classes are six weeks long, with one training session a week.
Basic Obedience 101 Class: $175.00
Your dog will learn:
Recall: come when called
Proper leash etiquette: Walk on a leash without pulling
Sit
Lie down
Stay
Leave it
Proper greeting etiquette: greeting guests politely without jumping up on them
Obedience 101 is designed to teach your dog how to live in a human world! We cover common behavior challenges and the basics of being a polite, respectful member of a household. We will discuss the proper and responsible use of various training tools and use the methods and equipment that are the most effective and safest for each individual dog. We will build a relationship between dog and handler that fosters a positive learning environment while setting healthy boundaries and creating a strong bond. The result is a cooperative educational partnership that lasts throughout your dog's life.
Obedience 102 Class: $175.00
Prerequisite: Obedience 101 class OR demonstration of skills from obedience 101 evaluation.
This obedience class is the next level of training for the well behaved dog you have always dreamed of having. This class builds on the foundation of our Basic Obedience 101 class, increasing your dog's responsiveness in different environments, adding distractions and duration to those already known behaviors. We strive to meet any needs and desires of owners and their pets. This class will guide you in training and perfecting behaviors, like teaching your dog that "come" means come — no matter what's going on.
Your dog will learn:
Introduction to off-leash
Working with increased distractions
Hand signals
"Place" command
Perfecting loose-leash walking
Confronting other common behavioral issues
At the conclusion of this class, virtually all our pet owners are fully confident in training their dogs. They now have the degree of control and responsiveness they desire. Our graduates have developed the skills to teach their dogs anything they wish to, this is knowledge that lasts throughout your dog's life.
Advanced Obedience 103 Class: $175.00
Prerequisite: Obedience 101, 102 OR demonstration of skills from obedience 101 and 102 evaluations.
This course puts everything you've learned to practical use by going to public places. This class is opportunity to have fun with your dog while making sure they behave well in public with the highest level of distractions. Going for ice cream, a walk in the park, or hike in the woods is always more fun with a well-behaved dog, and having trainer guidance in these situations will allow you and your dog to establish rules and desired behaviors for busy public places.
Daily Drop-off Training Programs
Puppy Training Day Camp: $999.00
This training camp is for puppies that are 10 weeks old up to 6 months old. This is a 10 Day Training Day Camp Program that covers all the basics, including: housebreaking, socialization, manners, and introductory obedience exercises. Puppies will learn to respect a leash, what appropriate behavior looks like in regards to other people & dogs (i.e. sitting when being approached, not jumping, and beginning to handle troublesome behaviors like severe anxiety or demand barking), as well as how to relax even in busy situations. Emilie will instill an "on/off" switch in your puppy, so they know when it's time to play and when it's time to be settled. This will set you up for success when you bring your puppy home!
Day Camp is run Monday-Friday for two weeks with weekends off. There is a 1 hour training session with owner on pick-up day to discuss commands and address any questions.
Dog Training Day Camp: $1,100.00 (For dogs over 6 months old)
Beginning with a free evaluation, and after acceptance, our program is designed as follows: Day school is 9AM – 4PM (flexible hours also apply). We work with each dog in 30-minute segments four times per day, for five consecutive days per week for two weeks (weekends off).
What They Learn:
They are taught the basics of 'heel, 'sit, 'sit stay,' 'down,' 'down
stay,' and 'come when called.' We will work with each dog to provide a strong foundation for owners to continue to build upon throughout the dog's life. Owners MUST continue the practices at home for muscle memory in order to have a lifelong obedient pet. Two one-hour private lessons with owner are included with the class; one at pick up on day 10, and one scheduled a week after the conclusion of the camp to address any questions or follow-up to solidify commands.
Behavior Modification Day Camp:  $1,100.00
For dogs over 6 months old. This customized program  focuses on eradicating unwanted behaviors, instilling great leash manners, and teaching your dog to be attentive and responsive through training that's firm, fair and fun. Eliminate frustration and enjoy a closer bond with your dog. Training is focused to meet your individual goals and designed to fit your dog's individual history and temperament.
Boot Camp: $115/day
Boot camp is designed for our Rendezvous Regular clients. It provides training during days your dog is already scheduled for daycare, and includes the price of daycare in its total cost. This helps dogs work through basic obedience, socialization challenges, self-soothing, listening skills, and whatever else a client brings up to Emilie.
This training includes 4 1/2 hour sessions during a single day of daycare, so is a bit more intense than most of the other drop-off programs, highlighting more specific or troublesome issues.
With almost 18 years of experience in dog training, Emilie has a passion for finding the right tools to help your dog become a successful member of your home. She is all about practical training and getting your pet settled in the real world.
She raised and trained her own medical alert service dog and specialized in behavior modification before joining us at Pet Rendezvous. She has worked with dogs in their own homes, helped foster dogs adjust to pack life, and has created strong bonds with dogs that have few human friends. Her first professional training job was saving dogs destined to be put down unless their behavior improved quickly. When introducing new dogs, she is an integral part in reading dog body language and assessing behavior.
Because we train at Pet Rendezvous, a building full of dogs and experienced staff, dogs training in-house will have access to two full-sized yards, crates, other dogs of various shapes, sizes, and temperaments. They have the option to play in daycare during the day, where Emilie can help work on behaviors outdoors in an enclosed area, as well as proper socialization, leash behavior, and interaction with both humans and dogs.
Emilie is a balanced trainer, ready to use all the resources and tactics available to her to challenge your pet and fix any issue you are facing at home. She loves a challenge and fears nothing, willing to take on any dog.