Your pet is sure to enjoy these amenities:
A clean, private room with 24/7 access to water

Soothing music and air filtration to help prevent kennel cough

Bedding & bowls provided (you're also welcome to bring your own!)

Access to a private yard for those that cannot be in the pack, and the large yard with our daycare dogs for those that would prefer friends

A knowledgeable staff able to handle any medical & dietary needs

24-hour care available for our Slumber Party guests!
Premier Overnight Accommodation Daily Rates (per dog):
Ruffin' It
For pets staying 7 days or more. Our most economical package.

Includes all pet services listed above, 4 outings per day, and 2 hours of group daycare daily.
Posh Pooch
A step above Ruffin' It. This includes all pet services listed above, 4 outings per day, and 2.5 hours of group daycare daily.*
The Premier Pooch
This package includes all pet services listed above

Plus 4 outings per day, and 3 hours of group daycare daily.*
Platinum Pooch
This package includes all pet services listed above

Plus 4 outings per day and 4 hours of group daycare daily.*
Platinum Plus (All day play)
Play all day! The Platinum Plus experience includes all above services and 10 hours of play.

A fun-filled day will assure your pet will sleep easy, just like at home!
Slumber Puppy ……………….. $129.00 (1 Pet, per day)
2 Pets, same family ……………….. $195. (Add $65 for each additional pet in the same family.)
This premium package is all-inclusive! This is the only package where one of our animal caretakers spends the night with your pet. This enclosure-free package is perfect for the pet who has never stayed away from home or needs the added attention of a personal care-giver all night long. Your dog(s) can enjoy a night of snuggling with a new friend watching a movie, playing games, and enjoying treats in our lounge. Your pet will also enjoy ALL DAY PLAY, complimentary of this package. This way, they are sure to be spoiled during their stay!
*Play packages are based on a dog's ability to play well and socialize in a pack setting. For dogs who do not enjoy the company of other dogs, or for owners who would prefer not to have their dog play with others, we will spend one on one time with their pet while giving them their minimum of 4 outings per day. 
First time boarding at Pet Rendezvous? Click the below button to fill out the required New Client File Form.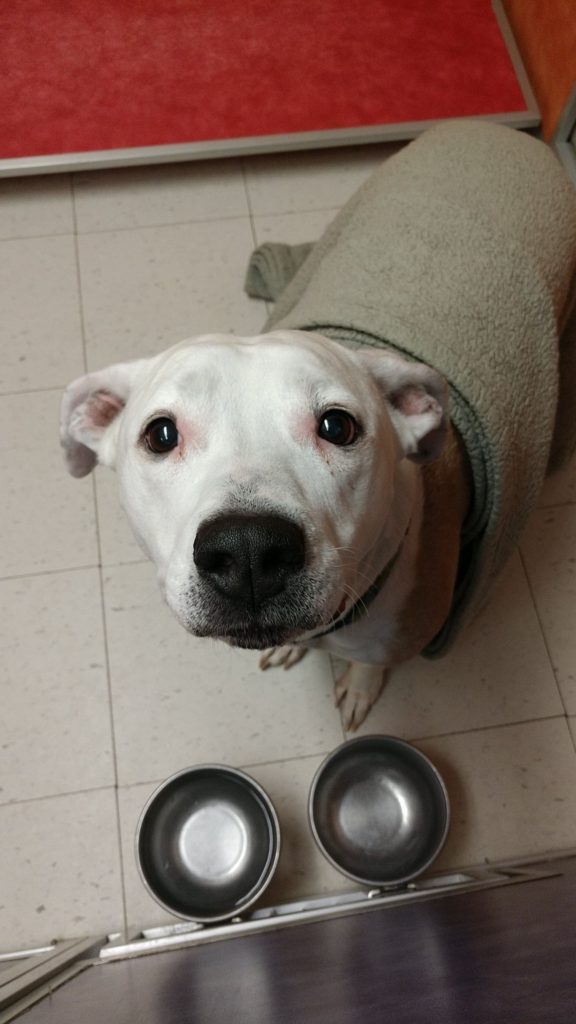 We require all dogs board at $50 (or above at Platinum Plus for $60) per night for the week of the following holidays: Thanksgiving, Christmas, and New Years. Be sure to ask about holiday rates when scheduling.
Application & Agreements: Complete Pet Boarding & Daycare application and sign agreements
Vaccinations: Bring paperwork with up-to-date vaccinations for the following:

Dogs: Rabies & Distemper required, Bordetella, negative fecal, flea preventative recommended.
Cats: Rabies, Distemper, and Titer tests are accepted.
— Please note that a rabies tag is not enough and that without up to date vaccinations your pet will not be allowed in the building.
Food, Toys & Bedding:

We don't like to switch up dog's food during their stay, as we don't want to upset their stomachs, so we ask that you provide whatever they eat at home, and enough to cover at least the entirety of their stay and one additional night in case of emergency. We generally feed two times daily, with the exception of an additional third meal for puppies or other special cases, as requested by owner.

Feel free to bring treats.

Beds and two toys are welcome, if washable.
Cancellations Fees:
$50 deposit applies for dog boarding reservation. Loyalty clients may transfer deposits to future reservations.
Please know that if you check out after 12pm there will be a $35.00 daycare charge.
— For the safety & well being of your pet, please read! —
Our concern for your pet is safety first. Dogs boarding are allowed to play with other dogs after an evaluation. "Le Pooch" is the name we give to dogs boarding with us that are unable to play safely in a group setting. Private play sessions with a handler are given in lieu of pack play for our "Le Pooch" dogs. Our programs are supervised by loving, attentive attendants who are highly trained in dog behavior. Safety and good manners are our first and foremost concern for your dog while boarding with us.
Please know there is always risk involved when dogs interact with one and other. Dogs play with their mouths and teeth, and scrapes can happen easily, just like children on the playground at school. We do not assume any risk when, or if, your dog is injured in our yard. Liability and responsibility lies with pet owners, not Pet Rendezvous, for payment of veterinary bills.
BE PREPARED TO ASSUME THE RISK INVOLVED!